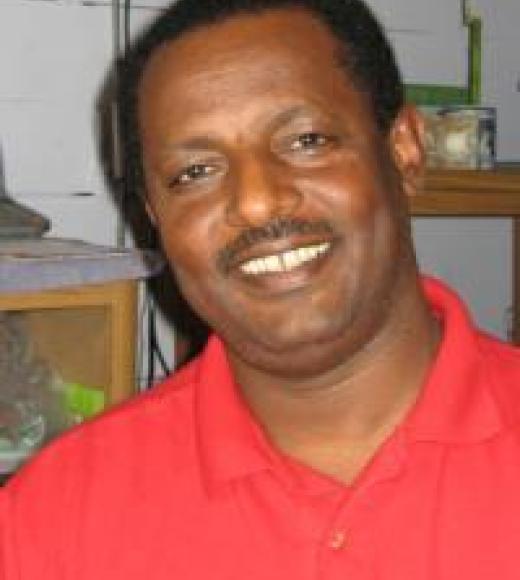 Position Title

San Diego and Imperial County Director
UC Cooperative Extension - Imperial County, 1050 East Holton Road, Holtville CA 92250-9615
Bio
Oli G. Bachie is currently the University of California Cooperative Extension (UCCE) Agronomy and Weed Management Advisor for Imperial, Riverside and San Diego counties. Bachie is also a county director (CD) for San Diego and Imperial counties. He is based at the UCCE office in San Diego and Imperial counties His research focus is primarily, but not limited to crops such as alfalfa, wheat, sudangrass, Bermudagrass, Kleingrass, cotton, sugar beets, and bioenergy crops, new alternative crops and their cropping systems. Bachie recently added a Weed Management assignment, serving San Diego, Imperial and Riverside Counties.  
Bachie earned his Ph.D. in Plant Biology at University of California Riverside (UCR) and has worked as an Assistant Research Specialist in the UCR Department of Nematology before coming to the UCCE Imperial office. His dissertation research explored Interdisciplinary pest management (insects, nematodes and weeds) potentials of cover cropping systems. He has also earned a Master's degree in Forestry (MScF) from the University of Toronto, a Master's degree in Agronomy (MSc) from the University of the Philippines and a Bachelor degree in Plant Sciences (BSc) from Haromaya University (Ethiopia).
Bachie has worked as an adjunct professor of network administration and Computer Architecture at National University and American University in San Diego, as research specialist at the San Diego State Universities and as an adjunct professor of Biology at the Victor Valley College (VVC) for over six years. He currently teaches agricultural courses as part time at the Imperial Valley College. He is the current chairperson for the Research Advisory Committee (RAC) for the Desert Research and Extension Center (DREC) and a co-chair for the UCANR Desert Workgroup
Prior to moving to North America, Bachie worked at the Ministry of Agriculture in Ethiopia as an expert in crop protection, crop production and weed management.
Bachie provides research-based technical and educational assistance in agronomy and sustainable agriculture to agricultural producers, growers, farm operators, pest control advisors (PCAs) and other agricultural clientele in Imperial Valley, San Diego and Riverside counties. He develops and encourages adoption of research based cropping systems to improve crop productivity and yield with due consideration for environmental and ecological compatibilities.
Bachie is a good standing member of the American Society of Agronomy (ASA), Crop Science Society of America (CSSA), Soil Science Society of America (SSSA), the UCANR Desert workgroup, the Alfalfa and Forage workgroup and the Western Society of Weed Sciences (WSWS).
Specialty: Agronomy / Field Crops
Areas of Expertise
Education and Degree(s)
PhD , University of California, Riverside. 2011
MScF Forestry, Toronto University. 1996
MS Agronomy - Weed Science, University of the Philippines. 1990
Publications
Dugassa, Begna; Diba, Fantahun, et al. (2021). Climate Change and Public Health in the Oromia Regional State in Ethiopia and Its Implications for the Nile Basin. American Journal of Public Health Research. 9:6, 257-269. 11/23/2021.
Devkota, Pratap; Bachie, Oli (2021). Evaluation of the summer slump application of saflufenacil on nondormant conventional alfalfa. Crop, Forage & Turfgrass Management. https://doi.org/10.1002/cft2.20095. 7, 8. March.
Montazar A., Bachie O. (2020). Feasibility of Moderate Deficit Irrigation as a Water Conservation Tool in California's Low Desert Alfalfa. Agronomy. 10:11, 1-21.
Membership and Service
Agroecology and Organic Farming Systems - Member
Climate Change Adaptation - Member
Desert - Member
Small Grain - Member
UAS (Drones) Workgroup - Member
Vegetable Crops - Member
Weed - Member